Chad Mariska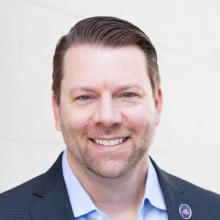 Chad Mariska is President and CEO of fire protection systems provider APS FireCo.
Under Chad's leadership, APS FireCo and its affiliates have emerged as the leading fire protection companies covering both Oklahoma and Texas. Engineering News-Record has named APS FireCo to its Top 600 Specialty Contractors List recognizing the construction industry's largest service providers. Also, APS Fire has been selected to The Journal Records' Tulsa Fast 40 highlighting the fastest growing companies based in Tulsa.
Chad was featured in Oklahoma Magazine's 40 Under 40 recognizing Oklahoma's top young leaders and is an Admiral in the Great Navy of the State of Nebraska.
Chad is an active member of the following organizations:
American Red Cross of Eastern Oklahoma Board of Directors
Young Presidents' Organization of Tulsa Board of Directors
Regent Bank Advisory Board
Chad has previously served the following organizations:
Oklahoma State University Fire Protection and Safety Technology Industrial Advisory Board
University of Nebraska College of Business Young Alumni Advisory Board
Tulsa Area United Way Alexis de Tocqueville Society Steering Committee
Reliable Fire & Security Equipment Company Advisory Board
Highfield Homeowners Association
Hope Valley Farms Homeowners Association
Delta Tau Delta Fraternity
Born and raised in Lincoln, Nebraska, Chad received a Master of Business Administration from The Fuqua School of Business at Duke University. He is a magna cum laude graduate of the University of Nebraska where he earned a Bachelor of Science in Business Administration.