Started in 1981, APS FireCo is a recognized leader in fire protection with unmatched inspection, service, design, and project capabilities. We are your single source for fire alarms, fire sprinklers, fire extinguishers, kitchen hood fire systems, special hazard fire systems and more. We work with you from our five regional operating locations in Oklahoma and Texas, along with our curated nationwide affiliate network.
In 2021, APS joined Marmic Fire & Safety's® family of fire protection companies. With a national presence, Marmic is a leading fire safety brand working with businesses whose locations are spread out over multiple states and with varying degrees of size and complexity. Together, Marmic and APS are assisting customers with consistent pricing and service.
View more information on Marmic.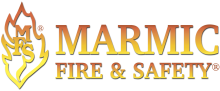 Major customer groups are critical asset owners, industrial facilities, commercial facilities, offshore facilities, architects & engineers, contractors, and property managers.
Get Started