Explosion Protection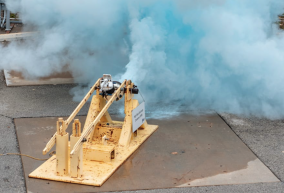 Explosion accidents kill hundreds of people and cause billions of dollars in damages each year around the world, but they can be controlled with an explosion suppression system, reducing the likelihood of serious injuries or death, as well as the damage to facilities and equipment.
APS FireCo can help you mitigate the risk of explosions in a wide variety of environments. Our team has a deep knowledge of the processes, current code compliance, and technical specifications necessary to protect your facility, equipment, and personnel.
Explosion detection
Explosion detection devices recognize critical warning signs and make the decision on when to activate explosion isolation and/or explosion suppression systems, which can help to prevent an explosion from damaging your equipment and facility, and injuring or killing personnel.
Explosion suppression
Explosion suppression systems are expertly designed to immediately identify, and then chemically suppress an explosion before it can cause a disaster, helping to reduce damage, injuries, and deaths.
Explosion isolation
Explosion isolation systems work to stop the spread of flame from one location to another through the use of fast‐acting explosion isolation valves and/or chemical barriers. These type of systems are particularly well suited to work in support of explosion venting systems.
Chemical isolation
This method instantly discharges an explosion suppressant agent into the duct work to suppress the flame, preventing it from expanding and reaching other, areas, equipment, or personnel.
Mechanical isolation
This method achieves the same goal by initiating the release of a high speed knife valve, which forms a protective mechanical barrier within the pipeline.
Explosion venting
Explosion venting systems provide over‐pressure protection from dangerous industrial explosion hazards by creating a planned pathway for the expanding gases from an explosion to safely escape. These systems are economical to install, and offer fast, reliable operation in an explosion situation. They are typically used in conjunction with explosion isolation and suppression systems.