Fire Sprinkler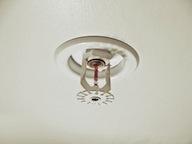 APS FireCo can handle all of your fire sprinkler needs, including:
Industrial and Commercial Fire Sprinkler Systems
Fire sprinkler systems designed according to city, state and national codes for use in commercial facilities. Cost is determined by size and use of facility.
Type of fire sprinkler systems include: wet pipe, dry pipe, pre-action, deluge, foam, water mist, and water spray. We use products from major suppliers such as Chemguard for foam and Marrioff for water mist.
Underground Fire Lines
The piping that connects the fire sprinkler system to its water supply. Cost is determined by length of line, pipe sizing and meter size.
Design
A fire sprinkler system must be designed and fabricated prior to installation. We design using AutoCAD based computer software. If a CAD drawing of the reflected ceiling plan is available, we prefer to work from it rather than recreating the entire drawing. Design is most usually included in the cost of the system.
Inspections
According to the national codes, fire sprinkler systems shall be visually inspected on an annual basis. Fire sprinkler Inspections do not require water to flow through the heads. An inspector takes this opportunity to locate any obstructions such as items stored too close to a riser, or stacked too close to a fire sprinkler head. Other items of which he / she will be aware are newly constructed areas. If a fire sprinkler professional is not consulted during a remodel project, coverage can be jeopardized.
Back Flow Devices
APS Fire has ABPA certified employees qualified to inspect, test and repair back flow devices. Some insurance companies and city governments require annual inspections and testing.
Service
Remodeling? If so, please feel free to call on us to be sure that fire sprinkler coverage is not put at risk. Moving walls, lowering ceilings and adding lighting can potentially obstruct fire sprinklers.
Emergencies
In the event that an accident occurs, we are ready. Most fire sprinkler systems go decades without problems. But occasionally, an old system will develop a leak or a forklift driver will hit a head and knock it loose. In these cases, we are ready to solve the problem. We make every attempt to answer your call with a live person (not an answering service). Occasionally when all of the lines are tied up, it will go to voice mail. The message gives you several alternative numbers to reach us. We pride ourselves on being available, 24 hours a day, 7 days a week and 365 days a year.