Exit Lights & Emergency Lights
Exit Lights & Emergency Lights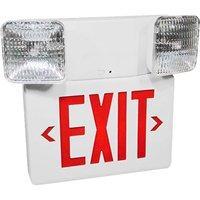 Emergency Lights and Exit Lights are battery-backed lighting devices that come on automatically when a building experiences a power outage. These are standard in new commercial and high occupancy residential buildings.
APS FireCo Technicians while on site performing Fire Extinguisher or Kitchen Suppression System inspections can inspect, test, repair, and replace Emergency Lights and Exit lights.
Emergency and Exit lighting are required to be tested annually to assure the battery is fully charged and will perform as required. All APS FireCo Technicians carry a battery annalizer to prevent from turning off power for the 90-minute test requirement. Technician vehicles are also stocked with the most common batteries and bulbs.