Gas Detection & Alarm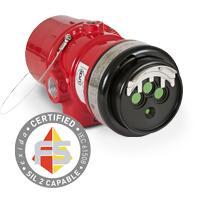 Flame & Combustible / Toxic Gas Detection
Today's hazardous environments demand the highest reliability that a flame detector can deliver. Optical flame detectors offer true optical integrity combined with the highest false alarm rejection level.
APS FireCo offers a wide range of products to meet your needs for detecting combustible and toxic gases in any application inlcuding offshore oil and gas platforms, petrochemical refineries, and engine test cells. We also offer liquid leak detectors.
APS FireCo provides conventional, addressable and custom combination systems. These comprehensive, approved systems integrate gas hazard, flame detection and fire suppression equipment.
Flame Products
For applications with high background radiation levels, such as turbine packages or offshore facilities, the multi-spectrum infrared flame detector is the ideal flame detector.
The single frequency infrared detector is designed for high-pressure hydrocarbon flame detection or where high speed response and contamination resistance is critical.
The UV/IR flame detector is suited for applications such as aircraft hangars that could have UV radiation sources present.
Semiconductor fabrication tools and facilities require high false alarm immunity and fast response time, and the dual spectrum infrared flame detector is the perfect choice.
Gas Products
The IR gas detector delivers the best hydrocarbon gas detection performance on the market! In addition to standard analog, HART, and Modbus communication capabilities, an optional built-in relay package rounds out the feature set.
Infrared gas detector continues to deliver reliable hydrocarbon gas detection and the lowest cost of ownership in virtually all LEL detection applications.
Stainless-steel Catalytic Gas Sensors along with combustible gas transmitters provide the industries most reliable catalytic-sensor solution for flammable gas & hydrogen vapor detection applications.
APS FireCo installs the best products including Det-tronics (Detector Electroncs).