Kitchen Fire Suppression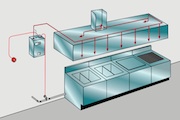 APS FireCo is a leader in implementing wet chemical fire suppression systems for kitchens.
We often use the Ansul R-102 Restaurant Fire Suppression System, which is an automatic, pre- engineered, fire suppression system designed to protect the following areas associated with cooking equipment; ventilating equipment including kitchen hoods, ducts, plenums, and filters; fryers; griddles and range tops; upright, natural charcoal, or chain-type broilers; electric, lava rock, mesquite or gas-radiant char-broilers and woks. The system is UL Listed under UL standard 300.
This restaurant fire suppression system is a pre-engineered, wet chemical, cartridge- operated, regulated pressure type with a fixed nozzle agent distribution network. It is listed with Underwriters Laboratories, Inc. (UL).
The system is capable of automatic detection and actuation and/or remote manual actuation. Additional equipment is available for mechanical or electrical gas line shut-off applications. The detection portion of the fire suppression system allows for automatic detection by means of specific alloy rated fusible links, which, when the temperature exceeds the rating of the link, the link separates, allowing the regulated release to actuate.
The Ansul PIRANHA™ Restaurant Fire Suppression System is also an automatic, pre-engineered, fixed, fire suppression system designed to protect the same type of cooking equipment listed above with the R-102 System.
The system is a dual-agent, pre-engineered, fixed, automatic fire extinguishing system developed specifically for improved fire protection of commercial restaurant cooking appliances, exhaust hoods and ducts.
When actuated, the system discharges a fixed amount of proprietary wet chemical agent followed by water through the same nozzles. Water is provided by a connection to the potable water supply. Advantages of the dual system over single wet agent systems include: (1) more robust suppression of hostile fires in protected restaurant hazards; (2) greater hazard area protection with less wet agent; (3) faster flame extinguishment and securing of hot fuels such as cooking shortening; (4) overlapping protection of cooking appliances from fixed nozzle spacing, allowing appliances to be interchanged freely without changing nozzles; (5) more rapid cooling of hot fuels and appliances to prevent re-ignition; (6) simplicity of design and installation.
The addition of the water discharge significantly aids in increasing and prolonging the foam blanket generated by the wet chemical agent. The longer retention of the foam blanket allows the hot grease to cool well below the auto-ignition temperature. The water spray portion of the system is provided by a connection to the potable water supply.
Kitchen Fire Suppression Applications:
Restaurants
Hospitals
Nursing Homes / Assisted Living Centers
Hotels
Schools
Airports
Kitchens in Commercial / Industrial Facilities