Fire Extinguishers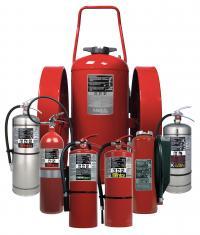 APS Fire can do the following...
Fire Hose Inspection and Testing
Recharge of Fire Extinguishers
Fire Extinguisher Inspection, Testing & Training
Recharge of Systems
DOT Hydrotesting
Used properly, a portable fire extinguisher can save lives and property by putting out a small fire or controlling it until the fire department arrives.
APS FireCo can provide you with both hand portable and wheeled fire extinguisher units to meet any application you may have. You should, however, choose your fire extinguisher carefully. A fire extinguisher should bear the seal of an independent testing laboratory. It should also be labeled as to the type of fire it is intended to extinguish. Additionally, the fire extinguishers must be large enough to put out the fire. Most portable fire extinguishers discharge completely in as few as eight seconds.
There are five basic classes of fires. All fire extinguishers are labeled with the classes of fires they can put out. Below are the five classes and the types of fires they control.
CLASS
TYPES OF FIRES
A
ORDINARY COMBUSTIBLES
Wood, paper, cloth, rubber, many plastics, etc.
B
FLAMMABLE LIQUIDS & GASES
Gasoline, oils, paint thinner, dry cleaning agents, propane, natural gas, tar, etc.
C
FIRES INVOLVING LIVE ELECTRICAL EQUIPMENT
D
COMBUSTIBLE METALS
Metal fires involving magnesium, sodium, potassium and sodium-potassium alloys, lithium and lithium alloy
K
KITCHEN FIRES
Fires in cooking appliances that involve combustible cooking media such as vegetable or animal oils and fat